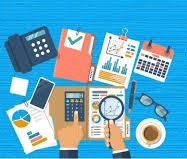 Information
CA Firms Technology issues
CA firm's mostly dealing with the taxation, Filing Income Tax Return (ITR), accounting and consultancy. They need to use a computer, laptop for their job. If something went wrong with technology, it will directly affect their work.
CA Firms are also dependent on software like TALLY, WINMAN, SARAL etc. What If tally or other software stops working. What you will do? / What If it's a deadline of filing ITR? To overcome these types of issues, we provide a technology solution and remote solution to fix your issue in a minimum time period.
Sometimes desktop, laptop and router failed and supported service provider struggling to correctly diagnose the problem due to the lack of equipment history... There can be enough of such instances that can affect your repute of CA firm if you didn't carry out your work on time.
To grow your business, you need to focus on the business agenda leaving back-end IT Infra worries to reliable, trustworthy, efficient team to handle the IT services, ideally remotely, to the extent possible, to avoid any business disruption.
ePrompto – an easy, reliable, trustworthy Tech Friend (Mitra). A remote technical solution to any technology issues.
ePrompto tech Mitra helps in configure all these and provides safe and secure remote sessions to ensure your devices and applications are working and safe. No need of any appointment and pre-scheduled visit.
Why ePrompto tech Mitra?
Most break fix shops and establishments will fix a hardware problem on your PC/ laptop. But then you have a network at office, Wi-Fi, routers, printers, desktops, Laptop which connect to Wi-Fi.
Whom to call to fix a software bug or a virus attack or a slow connection
Whom to trust that they will not just take off with the money
And why do we need people to schedule a visit home- we have reliable bandwidth, and all corporate offices work remotely. What even all big IT companies solve problems in US/ Europe sitting in back offices in India…how are they doing it…
Why can't we have remote sessions to solve my day to day issues…
Well now you can because of ePrompto tech Mitra. We have experienced engineers, trusted and secure sessions and best you pay after your problem is resolved!