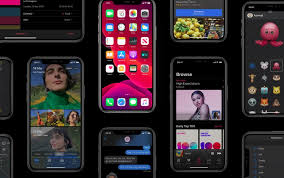 Information
New Features in iOS 13
Apple has released iOS 13, the latest version of iOS to its devices. Let's go through each of the new features in detail to learn more.
1)      Dark Mode
iOS 13 brings a system-wide dark mode, one of the most requested features for a while. The Dark mode uses a true black theme, meaning that the background in many apps is pitch black. On iPhones with OLED screens (iPhone X, XS, and XS Max), this might help save a small bit of battery life.
To enable the dark mode, go to the Control Center, tap and hold on the Brightness slider, and then tap on the "Dark Mode" button. You can also set up a schedule by going to Settings > Display and Brightness > Schedule. You can enable dark mode based on when your local sunset takes place or a custom schedule.
2)      New Photos Tab
Apple is making it easier to browse through your photo collection by organizing them down into years, months, and days. When you open the Photos app in iOS 13, you'll see a new "Photos" tab in the bottom toolbar. Tap on it and you'll see four sections: Years, Months, Days, and All Photos.
Apple intelligently selects the best photos from your library. You'll find autoplaying videos and Live Photos as you scroll through.
3)      Tighter Location and Bluetooth Access Controls
Some rogue apps have been using Bluetooth and Wi-Fi data as a workaround for tracking your iPhone's location. In iOS 13, you can now disable Bluetooth access for apps you don't trust.
iOS 13 also overhauls the Location Services feature in a big way. Apps can no longer get access to constant background location tracking. When you first see the popup for location access, the "Always Allow" button won't be available. Instead, the options are now "Allow While Using App", "Allow Once", and "Don't Allow".
4)      Improved Maps App
The Maps app gets quite a significant overhaul in iOS 13. The Maps app now has a Favourites section where you can highlight a place for quick access. You can also use the Collections feature to create a collection of places that you want to visit.
The Maps app also brings its own Google Maps Street View-style feature called Look Around. When you're in a supported location, you can tap on the "Binoculars" icon to jump into the immersive mode. Pan and swipe to move around whichever city you're exploring.
5)      Smarter Battery Charging
In Settings > Battery > Battery Health, you'll find a new toggle called "Optimized Battery Charging". This feature is designed to reduce battery aging. Once updated to iOS 13, your iPhone will learn your charging pattern and will only charge the phone up to 80 percent.
Stay tuned to ePrompto for the latest news and technological advancements.